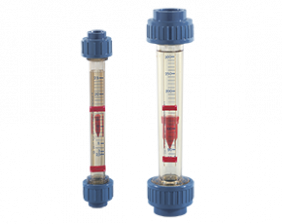 Variable Area Flowmeter-Plastic KSK
For liquids and gases

Measuring range:
1.5 - 11 ... 100 - 1000 l/h water
0,15 - 0,45 ... 20 - 105 Nm3/h air
Connection: G ¼ ... G 1 male thread, glue-in connection DN10 ... DN25
Material: trogamide, polysulfone
pmax: PN10
tmax: 140°C
Accuracy: cl. 4 acc. to VDI
Options: contact, air scale

Function and Design
KOBOLD plastic flowmeters and switches model KSK are based on the well known suspended float principle.
They are used for measuring and monitoring flows in closed pipes.
The media flows, from below, through a conical plastic measuring tube. This raises the float and the flow rate can be read off against the scale. The instruments can be fitted with bistable switches.
The use of the high-quality material PVDF (model KSK 3...) means that this type is very suited for service with corrosive media.