Digital Pressure Gauge with IO-Link MAN-LC
Digital Pressure Gauge with IO-Link

Measuring ranges: -1 ... 0 ... +1600 bar
Process connection: stainless steel
G¼, G½, ¼" NPT, ½" NPT male, M20x1.5, M16x1.5, M6 female, 7⁄16 UNF
Housing: Ø 80 mm
Accuracy class: 0.5 ±1 digit
Power supply: external power supply via 24 VDC
Features:
5-digit transflective LC-display with white backlight, electronics module rotatable in 90° steps, capacitive touchpads, peak memory, two universally configurable signal outputs, IO-Link function, selectable measuring units, Tara function

Highlights:
Only Digital Pressure Gauge worldwide with IO-Link
Touchpads for Programming
5-digit Display
Digit height: 16 mm
including Force Measurement via freely programmable area input
Big choice of selectable engineering units
User defined engineering unit possible
incl. linear Frequency Output
upto 2 Relay outputs possible via 8-pole connector (optional)
Rubber protection sleeve (accessory)
Assembly of numerous diaphragm seals possible
Special measuring ranges (on request)

Promotional Video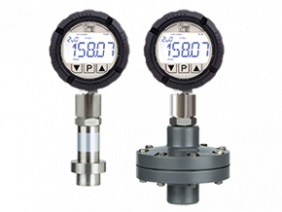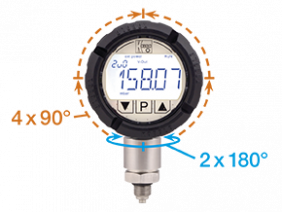 Description
The intelligent KOBOLD digital pressure gauges with IO-Link are used for the display, monitoring and remote transmission of pressure-dependent operating sequences in machines and installations. The pressure to be measured is sensed by a ceramic, or metal sensor, and displayed by the electronics.
With the MAN-LC version, two universally configurable signal outputs are available. Instead of outputs, the optionally available relay board may drive up to two potential-free relays.
The values are shown on a five-digit LCD display. The electronics module can be rotated at 90° intervals.
In the pressure switch design with integrated relay, the switching point and hysteresis can be set on the membrane keypad. A wide range of process connections are available as an option. The process connection can be axially rotated as desired, after loosening the counter nut.