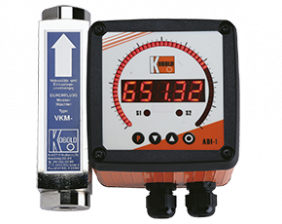 Viscosity Compensated Flow Meter / Switch - All Metal VKM with ADI
For viscous liquids

Measuring / switching range:
0.01 - 0.07 ... 8 - 80 l/min liquid
1 - 540 mm²/s viscosity
Connection: G ¼ ...1, ¼ ...1" NPT female thread
Material: brass, stainless steel
pmax: 250 (brass), 350 bar (stainless steel)
tmax: 100°C
Output: max. 2x contact, 1x analogue
Power supply: 24 VAC/DC , 24 VDC ±20 %, max. 250 VAC
Electrical connection: plug DIN EN 175301-803, cable
Accuracy: ±4 % of full scale
Option: analogue output, counter, digital display, relays, panel mounting, block valve BVB
Approval: cCSAus, ATEX

Description
The KOBOLD flowmeters and switches model VKM have a spring-loaded float, which slides within a cylindrical measuring tube and has an integral orifice which is believed to be unique. This and other design features means that it has for the first time become possible to create a flowmeter and switch which fully compensates for viscosity and to a large extent for density even with very low flows.
The float of these patented devices contains a permanent magnet which actuates a potential free bistable reed contact mounted outside the flow thus ensuring hermetic separation between the medium and the electrical contact system. The contact is embedded within a height-adjustable plastic housing to prevent damage to the contacts by mechanical action or aggressive atmospheres.
As the medium enters the instrument the float rises. Once its magnetic field reaches the contact tips of the reed switch the contact closes. As the flow increases the float rises further until it reaches its stop. This prevents the float from going beyond the contact range of the magnetic operating tube, that is, the contact remains closed thus ensuring bistable switching.