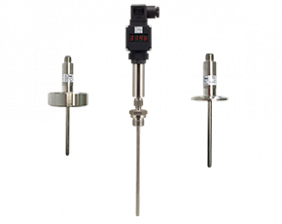 Insertion Temperature Sensors with/ without Transmitter MMA
Measuring range: -198 ... +250 °C (MMA-H); -70 ... +150 °C (MMA-0)
Connection:
thread, clamp DIN 32676, VARIVENT®, UNION NUT DIN 11851
Bulb Material: stainless steel
Sensor: Pt 100
Electrical connection: plug DIN 43650, M12
Output: Pt100 or 4 - 20 mA
Option: plug-on display model AUF

Description
The screw-in temperature sensors with integrated transmitter can be used with the plug-on display model AUF... as economical digital thermometers with analogue output (4-20 mA). The plug-on display is available with limit contact as an option.
The model MMA-... temperature probe connections are made of stainless steel available in G¼, G½, ½" NPT, clamp DIN 32676, VARIVENT® or Union Nut DIN 11851. The bulbs have been designed for pressures up to 36 bar, depending on the process conditions.
Due to a DIN 43650 connector the transmitter can be cable-connected or retrofitted with the plug-on display very easily. The M12 connector has the same cable-connection properties.
The temperature sensor is equipped with an extension neck for process temperatures >150 °C. The Pt100 temperature sensor is conform to IEC 751, class A, 1/3 DIN, 1/10 DIN or cryogenic (for further information see order details).