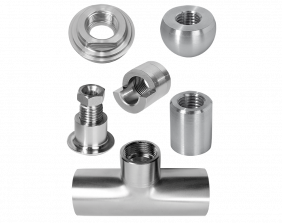 Hygenic Mounting Systems LZE

Connection sensor: G ½, G ¾, G1, M12 x 1.5
Connection: weld on sleeve, ball sleeve, collar sleeve, Tri-Clamp®, Varivent®, clamp
Material: stainless steel 1.4404
pmax: 10 bar
tmax: 250°C

Description
The mounting system for hygienic measuring points is characterized by a dead space and elastomer-free seal system of the mounting sleeve with the measuring unit. The materials used are safe for use in the food and pharmacy industry.
In order to make it possible to install it in existing pipe systems with common food screw connections, a number of adapters (e.g. Tri-Clamp®, VARIVENT®, conical connection DIN 11851) are available.
The sleeves are equipped with measuring unit connections in three different sizes (M 12x1,5, G ½ and G 1). The measuring unit you have selected determines the necessary size of the weld-in sleeve.