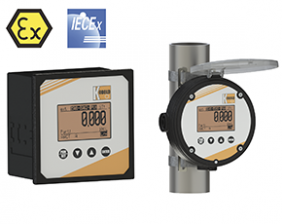 Counter and Dosing Electronic ZOK

Input: 2x pulse: 0.1 - 1000 Hz
type NPN, PNP, NAMUR, Reed, Hall, active
Output: analogue, switching, pulse, relay or status
tmax: -20 ... +80°C
Power supply: 5 - 28 VDC or battery; 90 - 260 VAC; 12 - 28 VDC
Display: LCD, backlight
field housing, sensor supply, arithmetic functions


Changing Processing Board (Service Video)
Description

The electronic units ZOK-Xx are specifically designed for the calculation, display and transfer of calculations and flow rates of flow meters with pulse or frequency outputs. The instruments display flow rate, day counter (resettable) and total counter in the operator-selected units. A clear multilingual menu guides you through the programming of the device that largely eliminates the requirement of constant usage of operating manual.
All user-specific program settings are retained even when changing the battery. The electronics options ZOK-ZxK are weather resistant and adequately reflect IP66 / 67 (NEMA 4X). The electronics is housed in a UV-resistant, glass-filled nylon housing with stainless steel screws and FPM seals. The option ZOK-ZxP is in a panel housing 96x96 mm with protection class IP44.
The option ZOK-ZxF is available in powder coated aluminum extruded housing with plastic lids and appropriate protection class IP 66/67. The instruments are suitable for harsh indoor or outdoor environments and comply with EU Directive 2004/108/EC (Electromagnetic Compatibility).