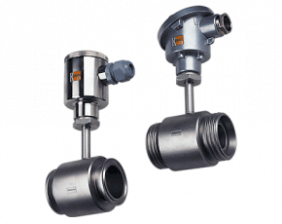 Pipe Temperature Sensor for Reliable Dead-Zone-Free TWP
Measuring range: -20 ... +200°C
Connection: hygenic connection, Tri-Clamp®
Pipe: stainless steel DN15 ... DN80
Sensor: Pt100
Head B or field housing

Description
The in-line resistance thermometers allow dead-zone-free temperature measurement in piping. The annular cross section generates no additional flow resistance. Suitable for complete cleaning in place (with and without pipeline scrapper).
The selection of materials, the surface condition and the construction of the connections assure secure operation for the most stringent hygienic requirements. Wetted parts in stainless steel can be electropolished as an option.
In addition to standard process connections, thread according to DIN 11887, clamp according to ISO 2852 and other types are available.
Pt 100 temperature sensors according to IEC 751, category B are used as standard. In addition to the connection head form B these resistance thermometers can also be fitted with a housing made of stainless steel.
The in-line resistance thermometers are available with an optional transmitter.